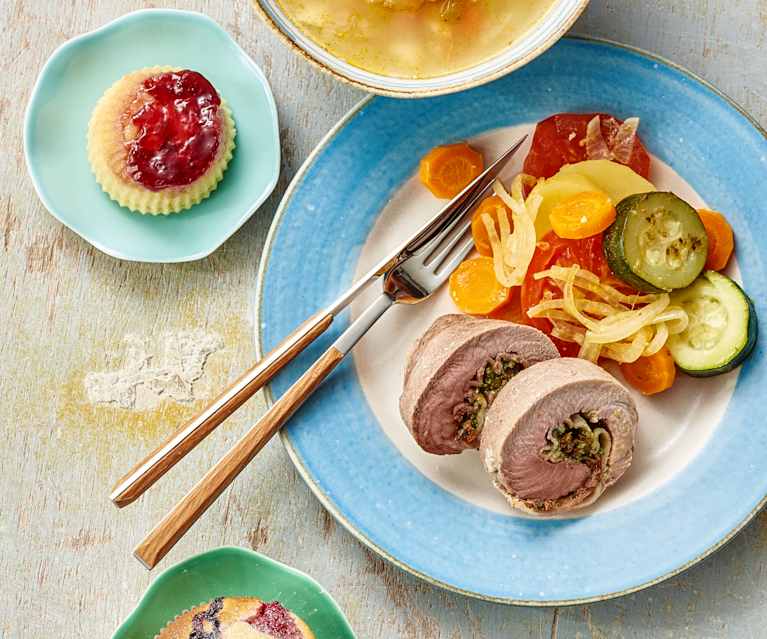 TM6 TM5
Compatible versions
Please be careful, this recipe is designed for a specific device combination and is not compatible with other machines.
Súp mì rau củ, Thịt heo cuộn rau củ, Bánh pudding và muffin
Difficulty
Most of our recipes are easy. Those that require a little more time or cooking ability are rated medium or advanced.
Preparation time
This is how much time you need to prepare this meal.
Total time
This is the time it takes to prepare this meal from start to finish: marinating, baking, cooling etc.
Serving size
This shows how many portions this recipe makes.
Ingredients
Muffins và pudding mâm xôi hấp
4 thìa cà phê mứt mâm xôi (40 g)
2 quả trứng gà
200 gam đường
60 gam bơ nhạt, cắt miếng
200 gam sữa tươi không đường
½ thìa cà phê tinh chất vani tự nhiên
200 gam bột mì đa dụng
2 thìa cà phê bột nở
200 gam mâm xôi, tươi
150 gam việt quất, tươi
Thịt heo cuộn
500 - 600 gam thịt vai heo, không xương, nguyên miếng, mỗi miếng dày khoảng 1.5 cm
1 nhúm muối
1 nhúm bột tiêu
4 - 5 lát thịt ba chỉ xông khói
20 gam cà chua khô
30 gam phô mai Parmesan, cắt miếng (2cm)
5 nhánh mùi tây tươi, chỉ lấy lá
1 quả trứng gà
Rau Địa Trung Hải, súp mì ống rau củ
1 nhánh tỏi
300 gam hành tây, cắt thành lát
130 gam cà rốt, gọt vỏ, cắt lát mỏng (5 mm)
70 - 80 gam rau củ tổng hợp (ví dụ ớt chuông đỏ hoặc xanh, cần tây), cắt nhỏ
30 gam dầu ô liu nguyên chất
50 gam rượu vang trắng (optional)
1 ½ thìa cà phê muối
1 thìa cà phê đầy bột súp rau củ
1000 gam nước
250 gam khoai tây, cắt lát mỏng (5 mm)
160 gam bí ngòi, cắt lát mỏng (1 cm)
150 gam cà chua chín, cắt lát mỏng (1 cm)
½ thìa cà phê lá oregano khô
60 gam mì pasta khô sợi ngắn (ví dụ nui), cho món súp
---
Nutrition

per 1 khẩu phần

Calories

5439 kJ / 1299 kcal

Protein

49 g

Carbohydrates

133 g

Fat

59 g

Fibre

11.6 g
---
1. Select country or region
2. Select language