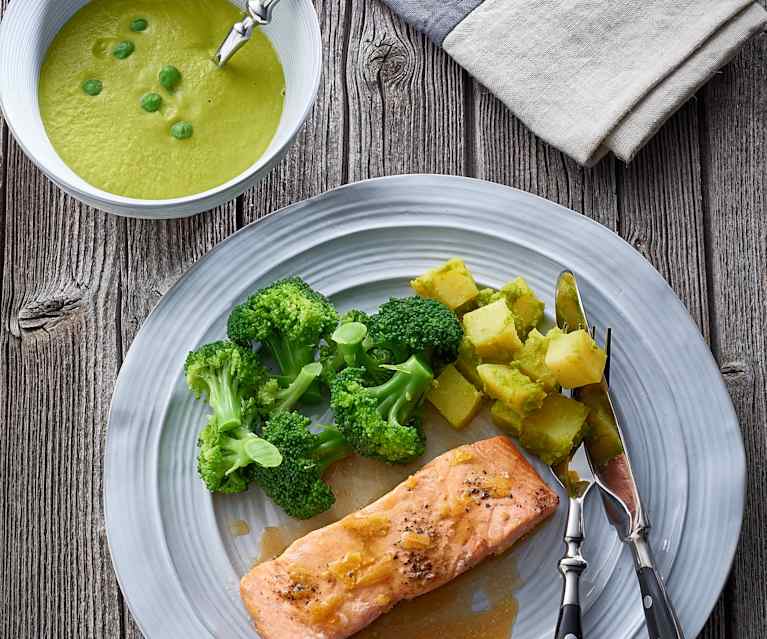 TM6 TM5
Compatible versions
Please be careful, this recipe is designed for a specific device combination and is not compatible with other machines.
Thực đơn với súp gừng-đậu Hà Lan, cá hồi sốt chanh, súp lơ xanh và khoai tây
Difficulty
Most of our recipes are easy. Those that require a little more time or cooking ability are rated medium or advanced.
Preparation time
This is how much time you need to prepare this meal.
Total time
This is the time it takes to prepare this meal from start to finish: marinating, baking, cooling etc.
Serving size
This shows how many portions this recipe makes.
Ingredients
80 gam dầu ô liu
50 gam nước tương
½ thìa cà phê đường nâu
1 quả chanh vàng, lấy vỏ và nước cốt chanh
4 miếng cá hồi phi lê tươi, bỏ da (150-180 g mỗi miếng)
or 4 miếng phi lê cá trắng, bỏ da (150-180 g mỗi miếng)
5 - 10 gam gừng tươi, gọt vỏ và thái lát (optional)
1 nhánh tỏi
100 gam củ hành khô, thái nhỏ
100 gam tỏi tây, chỉ lấy phần trắng, thái miếng
or 100 gam hành tây, bổ đôi
100 gam cần tây, thái miếng
350 gam đậu cô ve đông lạnh
or 350 gam cà rốt, thái miếng (xem mẹo nhỏ)
450 gam nước
2 thìa cà phê muối
250 gam củ khoai tây, thái miếng nhỏ (1 cm)
400 gam múi súp lơ xanh
or 400 gam rau củ các loại (ví dụ cà rốt, bí ngòi, khoai tây, nấm), thái lát (0.5 cm)
2 nhúm bột tiêu đen
50 - 100 gam single cream, khoảng 18% chất béo, để tăng thêm hương vị
---
Nutrition

per 1 khẩu phần

Calories

2984 kJ / 713 kcal

Protein

44 g

Carbohydrates

30 g

Fat

44 g

Fibre

10.7 g
---
1. Select country or region
2. Select language