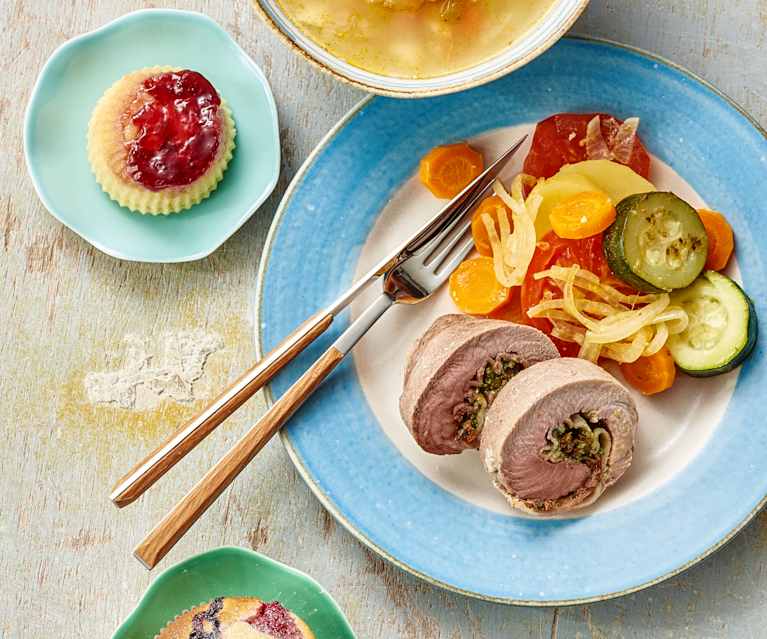 TM5 TM6
Compatible versions
Please be careful, this recipe is designed for a specific device combination and is not compatible with other machines.
TM6
TM6 + Thermomix Friend
TM5
TM5 + Thermomix Friend
TM31
Minestrone, Pork Roll with Vegetables, Steamed Raspberry Puddings, Berry Muffins
Difficulty
Most of our recipes are easy. Those that require a little more time or cooking ability are rated medium or advanced.
Preparation time
This is how much time you need to prepare this meal.
Total time
This is the time it takes to prepare this meal from start to finish: marinating, baking, cooling etc.
Serving size
This shows how many portions this recipe makes.
Ingredients
Steamed Raspberry Puddings and Berry Muffins
4 tsp raspberry jam (40 g)
2 eggs
200 g sugar
60 g butter, cut in pieces
200 g milk
½ tsp natural vanilla extract
or 1 tsp vanilla sugar, homemade
200 g plain flour
2 tsp baking powder
200 g fresh raspberries
or 200 g frozen raspberries
150 g fresh blueberries
or 150 g frozen blueberries
Pork Roll
500 - 600 g pork shoulder, boneless, in one piece, butterflied to approx. 1.5 cm thick
1 pinch salt
1 pinch ground black pepper
4 - 5 slices bacon, any type
20 g sun-dried tomatoes
30 g Parmesan cheese, cut in pieces (2 cm)
5 sprigs fresh parsley, leaves only
1 egg
Minestrone, Mediterranean Vegetables
1 garlic clove
300 g onions, of which 100 g cut in slices, the rest in pieces
130 g carrots, sliced (5 mm)
70 - 80 g mixed vegetables (e.g. red or green peppers, celery), cut in pieces
30 g extra virgin olive oil
50 g white wine (optional)
1 ½ tsp salt
1 heaped tsp vegetable stock paste, homemade
or 1 vegetable stock cube (for 0.5 l)
1000 g water
250 g potatoes, sliced (5 mm)
160 g courgettes, sliced (1 cm)
150 g ripe tomatoes, sliced (1 cm)
½ tsp dried oregano
60 g short pasta, dried (e.g. elbow macaroni), for soup
---
Nutrition

per 1 portion

Calories

5439 kJ / 1299 kcal

Protein

49 g

Carbohydrates

133 g

Fat

59 g

Fibre

11.6 g
---
Alternative recipes
Show all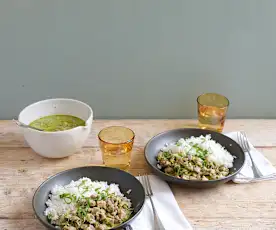 Veal Sweetbreads with Green Onions
3 Std.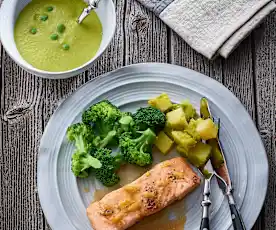 Pea and Ginger Soup, Lemon Salmon with Broccoli and Potatoes
45 Min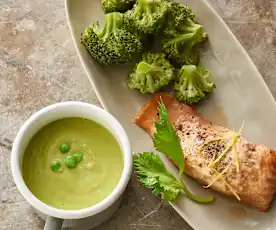 Pea and Ginger Soup, Lemon Salmon with Broccoli
50 Min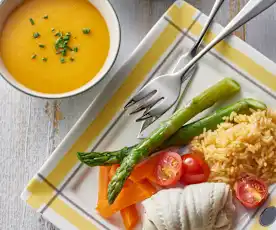 Butternut Squash Soup, Fish with Rice and Vegetables, Apple and Pear Crumble
1 Std.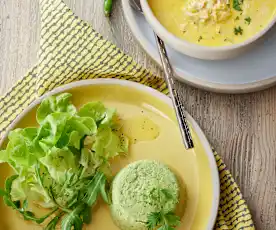 Chicken Corn Chowder, Broccoli Terrines
1 Std. 25 Min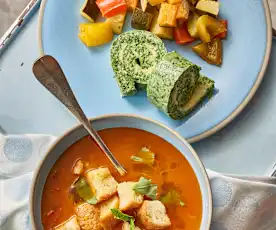 Bread and Tomato Soup, Rolled Spinach Omelette and Steamed Ratatouille Vegetables
1h 5min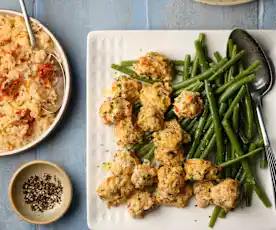 Chicken Polpettini with Steamed Rice and Green Beans
40 Min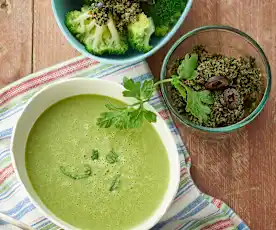 Creamed Lettuce Soup, Broccoli with Black Olive Sauce
45 Min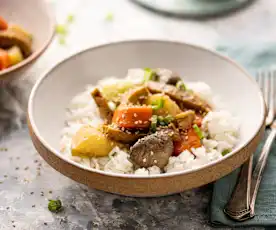 Vietnamese-style Vegetable Stew with Rice
40 Min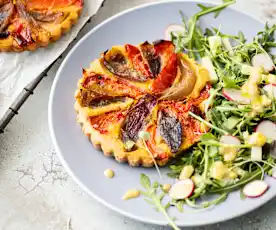 Vegetable Tartlets with Chickpea Flour Crust
1h 5min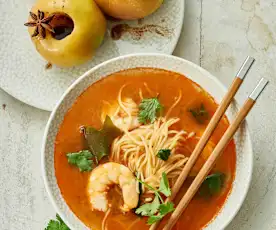 Thai-style Prawn Broth, Spiced Apples
1 Std. 15 Min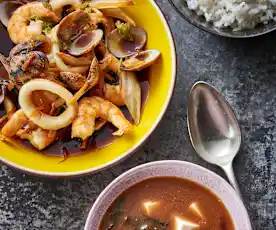 Miso Soup, Sake Seafood with Rice
1h 5min
Show all