Caramel, the ultimate make-at-home luxury
Sugar, butter and cream; it takes just three simple ingredients to make delicious, sweet caramel. Used to flavour desserts and puddings, as a filling for truffles and chocolates, and as a topping for ice cream and custard, it's incredibly versatile! While making caramel at home might feel daunting, thanks to your Thermomix®, it's easier than you may think. We've put together some answers to frequent questions about caramel making.
Is caramel a classic or a modern flavour?
With so many different ways of preparing it, the finished product is entirely up to you! If you're in the mood for nostalgia, try making toffee and be transported back to your childhood. If you fancy something a bit more contemporary, try adding some toasted nuts or seeds to your caramel, pairing it with chocolate, and sprinkling sea salt over the top. If you're making it for a dinner party, try surprising your guests by adding some unusual flavours like cardamom or ginger to a show-stopping caramel dessert.
How do I make caramel?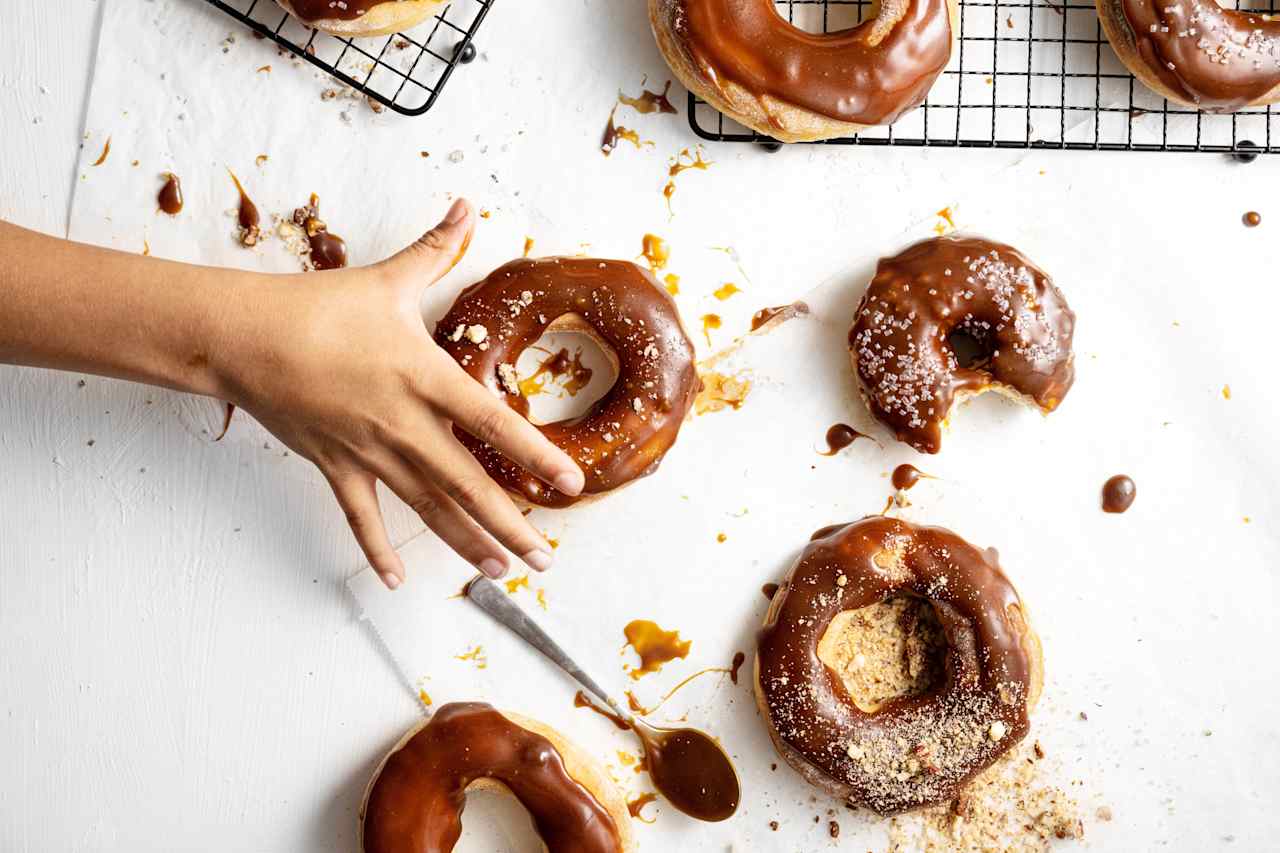 • With Thermomix® TM6, using Sugar Stages mode to make a caramel sauce couldn't be easier! Take advantage of the higher temperatures and simply follow the steps in Guided Cooking.
• Use Thermomix® TM31 and TM5 to make a sugar syrup until the temperature reaches 120°C. Transfer the syrup to a saucepan and heat over medium heat, watching carefully and gently swirling the saucepan as soon as the syrup changes colour. Test a few drops on a white plate to get to the right shade of amber.
• Tip for success: if making caramel in a saucepan, use a lid in the beginning until all water evaporates. The lid will trap the steam and wash down any sugar crystals from the sides of your saucepan. This will keep your caramel clear and fluid.
• A shortcut to super quick caramel is to use ready-made caramel sweets. Chop them in Thermomix® and melt 3 min/75°C/speed 1 or longer, depending on quantity.
What should I keep in mind when making caramel?
• Caramel cooks at very high temperatures. Handle with care and use the spatula to prevent it from coming into contact with your skin. Most importantly, resist the temptation to lick the spatula until it's fully cooled!
• If caramel residue hardens in your Thermomix® mixing bowl, add 1 litre of hot tap water and cook 10 min/70°C/speed 1.
What can I use caramel sauce for?
Delicious, thick and creamy … it's hard to resist eating it all from the jar! Instead, try drizzling it over ice cream, adding it to brownie batter, or sandwiching it between two sponge cakes. You could also make a big batch and divide it into smaller jars to gift to friends. The recipients will be delighted!
I've made toffees, peanut brittle or honeycomb. What should I do now?
Leave your delicious confections to cool completely before wrapping them up well so they don't absorb moisture from the air. Break brittle or honeycomb with your hands and keep it in an air-tight container, and store caramel sauce in a sealed jar in the fridge. Cut toffees into neat shapes with a sharp kitchen knife, heated or lightly oiled if toffee sticks to the blade. For crisp edges, use a gentle back-and-forth sawing motion, rather than pressing down hard. Wrap your toffees in squares of baking paper and store in an air-tight container. If it's a warm day, you may want to consider keeping the container in the fridge.
Top tip: In the summer, add a layer of rice covered with parchment on the base of the box to absorb humidity and make your toffees last longer.